The tax penalty for not having qualified
(a.k.a. "Marketplace" or "Obamacare") health insurance
GOES AWAY in 2019!
This will be opening up some excellent, less expensive alternatives for health coverage that will be particularly helpful to those not eligible for subsidy.

IMPORTANT ANNUAL ENROLLMENT PERIOD (AEP) DATES!

UNDER-AGE-65 PLAN
Annual Enrollment Period (AEP)
for under-age-65
Affordable Care Act plans is
VERY SHORT.
November 1 - December 15th
The ONLY effective date is January 1.
_________________________________

MEDICARE AEP

(Medicare Advantage & Part D plans)
October 15th - December 7th

Effective Date: January 1st
Have questions? Need a quote? We would love to hear from you!
If you're eligible for a 2018 Special Enrollment...
Does your income fall below the amount in the chart below for your household size?
If so, you're probably eligible for reduced premiums on 2018 health plans!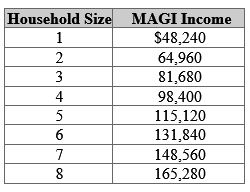 Contact us today to get all the facts you need to make an informed decision.
_____________________________________________________________________________________________________________________________________


Individual/Family Health plans | Medicare plans | Short-term medical | Dental plans

Copyright eHealthInsuranceSolutions.com - All Rights Reserved