INTRODUCING our Medicare
RxDoneForYou service!

(Available for anyone in the U.S. on Medicare - not just in NC/SC)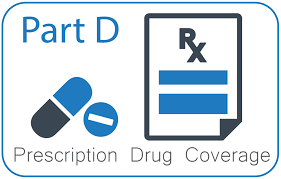 We'll Help You Get the Best
Medicare Part D Plan for YOUR needs!
Because we do not sell Medicare prescription drug plans,
we offer a paid service that gives Medicare recipients an unbiased analysis
of their best option for Part D drug coverage each year!
For those of you on Medicare, Health Insurance Solutions offers a service called RxDFY - RxDoneForYou.
What is RxDFY?
October 15th - December 7th is your Medicare Annual Enrollment Period.

What's that? That's the time of year to check out the new Part D drug plans to see if the plan

you're currently on will be
t
he best option for your needs in the upcoming year.
For many, this feels complicated and overwhelming and the result is that they do nothing.
Doing nothing means they'll remain on the same plan in 2019 that they were on in 2018..
The problem with this is that Part D plans change from one year to the next!
Premiums can increase substantially. Or a drug that was in, say, Tier 2 on your plan in 2018 may
be moving to a Tier 3 in 2019.

And the problem with that can be a difference in copay of $40 - 50 or more! And that's
just for one prescription!

So we've created a program that will be both a stress-saver and a
money-saver for Medicare recipients:

Rx DoneForYou!
We'll use your prescription drug information to find the top plans for your, specific needs. It will take into account the monthly premiums, the tiers of your drugs, your expected copays and whether or not you'll go into the "donut hole" (the limited coverage zone) of Part D.

Then we'll discuss your options with you, providing guidance that will help you get you the most bang for your prescription bucks.

We'll even assist you in completing the application for new Part D coverage if you decide changing plans is the right option for you. (No, we don't get any commissions or kickbacks from the Rx plans.)
Our RxDFY service is $75/individual (or a couples discounted rate of 2 for $130) and it could save
you hundreds or even thousands of dollars a year!

If it turns out your current plan is your best deal, you don't owe us one slim dime.

Yep, that's right.

If we don't can't find you a plan that, according to Medicare.gov, would reduce your out-of-pocket costs
for the upcoming year, our service is FREE!
You're certainly not required to change from your current drug plan after we give you our
advice and suggestions, but at least you'll know your options.

Call 704-464-8040 or email sharon@ehealthinsurancesolutions.com if you would like to schedule
a time for a free phone consultation to see if RxDFY is right for you.

We'll do the research and analysis. And you'll be armed with the information you need.
With your okay, we'll get you enrolled in the plan that will give you the most bang
for your prescription bucks in 2019!





Copyright 2018 - eHealthInsuranceSolutions.com - All Rights Reserved